Camp History
Historical Information
Nebraska Youth Camp became an official non-profit corporation on March 3rd, 1962.
The original Articles of Incorporation were signed by: Royce Blackburn, Colis Campbell, Howard Gurganus and Roger Hawley, all from York, Nebraska
The initial board of directors were: Royce Blackburn-York, Colis Campbell-York, LeRoy Davis-Omaha, Howard Gurganus-York, Roger W. Hawley-York, Glenn Larsen-Albion, Coleman Phelps, Jr.-Lincoln, Bruce Scroggin-Oak, and Harry Tubbs-Hastings.
First encampment was held on the York College campus.
Camp was held at Camp Kiwanis in Milford and in Fremont before the camp grounds by Kearney were purchased.
The camp grounds by Kearney were formerly called Camp Schwarzenau served by the church of the Brethren.
Reuben Sanner heard the camp was for sale and told his daughter and son-in-law: Helen and Raymond Hogins who informed the churches.
Reuben Sanner donated the first $50 towards the purchase of the property.
The walk-in cooler (used to be in the old Mess Hall) was purchased for $35 from a tavern near York.
The incinerator came from the Safeway store in Kearney in 1968.
A buffalo barbecue was held during a 4th of July celebration in the 1960's.
The original two ovens were purchased from the Lincoln Public Schools.
The flag pole came from downtown Lincoln, 700 F Building at 13th and P.
The camp grounds were named Trail Junction because the Oregon Trail, Mormon Trail and possibly the Santa Fe Trail converged in this area according to Dr. Manley UNL History Professor (1970's).
Seven acres on the North side of the interstate were considered too dangerous for water activities and sold.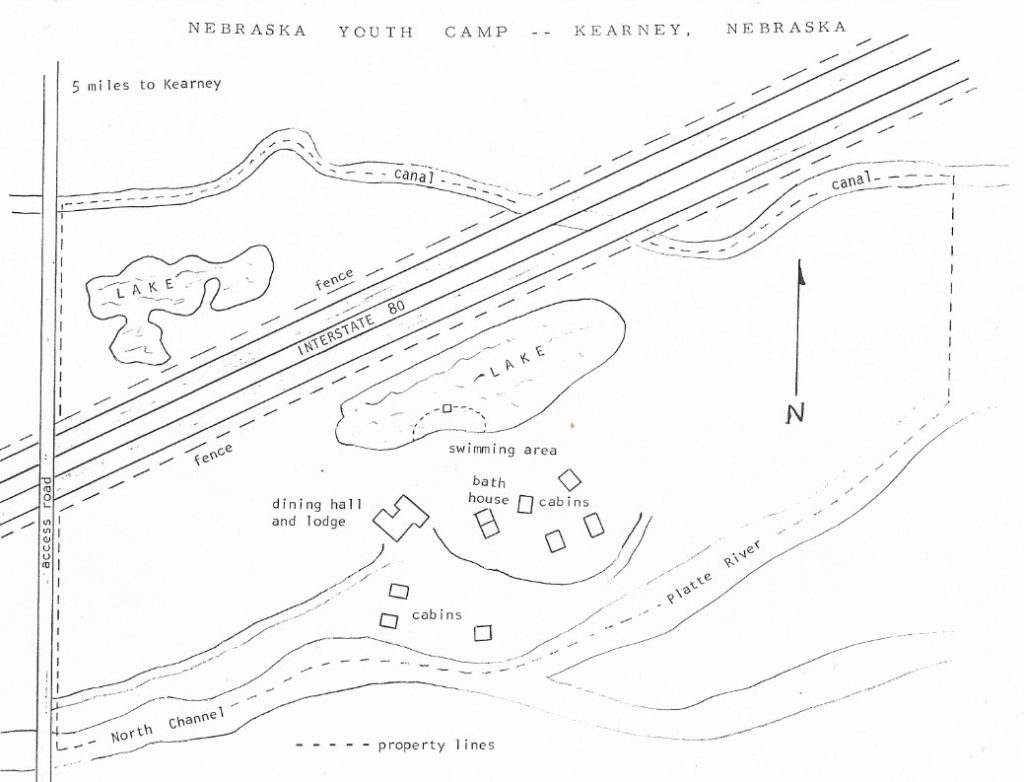 Historical Timeline
1950's
Camp Schwarzenau, now Nebraska Youth Camp, was rented for summer camp use by local churches of Christ .
1958?
A strip of land was purchased from the camp for Interstate 80.
A new lake was created south of the interstate.
1962-1965
Nebraska Youth Camp, a non-profit corporation, was formed at York College.
Camp was held at various locations such as: York College, Camp Kiwanis in Milford and in Fremont.
1966
Nebraska Youth Camp site near Kearney was purchased for $20,000.
The $8,000 down payment was raised from $100 donations from Church of Christ members.
Bruce Scoggins held note for $12,000 for two years.
Camp sessions started with all ages together.
Camp ran from August 14 to 27 at Camp Kiwanis, camper costs were: $15/1 week; $25/2 weeks.
90 campers at 1st week; 75 campers at 2nd week.
Board enlarged from 12 to 15 members.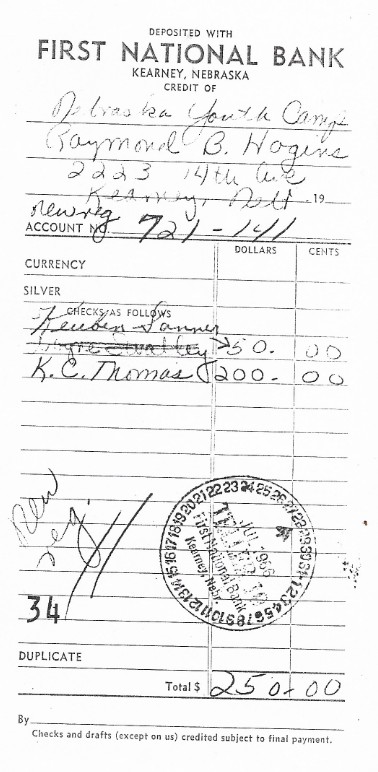 First donations for the purchase of the camp grounds in July of 1966 by Reuben Sanner of Kearney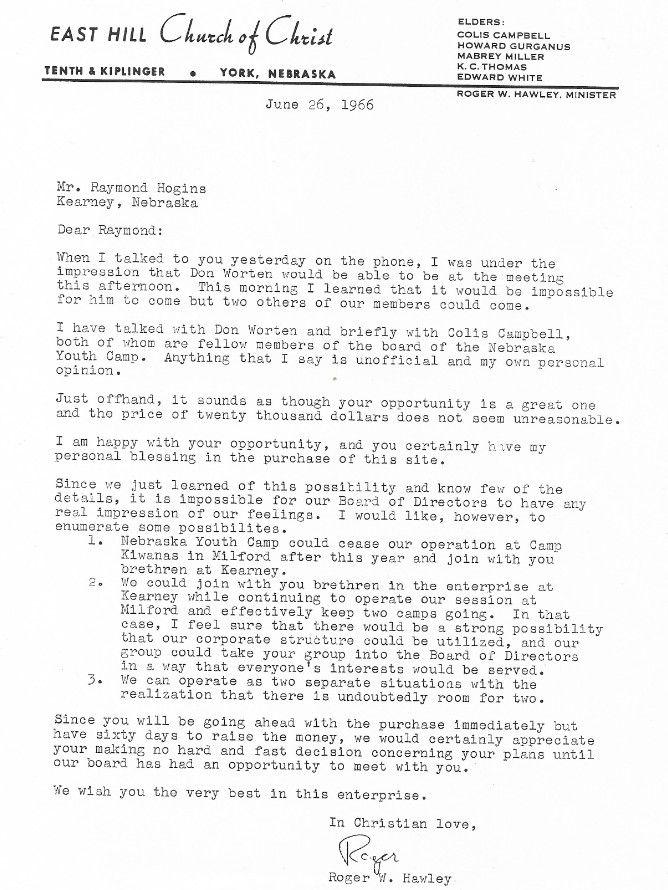 1967
A note program was organized whereas one or more $250 notes were held by members for a predetermined number of years and then either repaid or donated.
1971
Camp increases to five weeks and divided ages – One week for Juniors, Two weeks for Intermediate and Senior sessions.
Barracks building remodeled for Nurse cabin on east end, women's staff on west end and storage in the center.
Mohawk cabin constructed for $288, Apache cabin remodeled
Made arrangements to sell property North of Interstate
$11,000 left on property note.
1972
192 campers
134 paid members, 13 life members.
1974
$6,500 left on property note
1975
Board decided to pay some counselors
1976
Rewired the Kitchen
282 campers
1977
Increased to six weeks of camp
Purchased two canoes
1978
Introduced campers to sailboards
North property sale completed for $3,900
$2,250 remaining on property note
1979
Camp property paid off in November
1980
Money raised for construction of new bath house
1981
New Bath House constructed
218 campers
1982
Built Arapaho cabin
Introduction of Family Camp, 104 in attendance
250 campers
1983
Flood, only three weeks of camp, two weeks of Senior, one week of Junior.
1984
Men's Retreat held, 50 in attendance
190 campers at seven weeks of camp
1985
June Youth Rally, Men's Retreat, Family Camp added to the schedule
200 campers
Introduction of Dads & Lads, 101 in attendance.
1986
Replaced floors in Oriole, Bob-O-Link, and Nunami cabins
New floating swimming dock to replace dock on poles
Introduction of Ladies & Lassies
1989
Caretaker moved onto camp grounds – David & Sandy Hogans
Bell Tower constructed – Bell came from Geneva Church of Christ
1990
New Chibcha cabin constructed
1991
Theme: "Make a Difference"
New Comanche cabin constructed
1992
Theme: "As Iron Sharpens Iron"
Introduction of three day beginner session, 44 in attendance
Caretaker moved to front gate
Long Range Planning initiated by the board
Board divided into three committees
1993
Theme: "Children of the King"
Women added to Camp Board of Directors
Booster Clubs started
Four goals adopted by the board
Newsletter published quarterly
Remodeled canteen for office
Severe storm destroys tire tree
1994
Theme: "My Way or Yahweh"
Construction of 1st Staff cabin – cost: $11,000.00
Camp flooded – foot bridge constructed to reach cabins
Heart of a Servant Award: Harold & Deena Tandy
1995
Theme: "Into His Hands"
New Well dug and hooked up to current water system
First storm shelter installed
Architectural Design Assoc. helped master plan development
River bank stabilization initiated
Heart of a Servant Award: Harold & Muriel Luke
1996
Theme: "Celebrate Jesus"
Electrical hookups for campers installed
Harrison/Hempe/Davis. Inc. Camp Planning / Development Consultants commissioned
501(c)(3) Federal Tax Exemption status granted
Heart of a Servant Award: Reed & Betty Munsell
1997
Theme: "Discovering God"
405 campers
Nebraska state sales tax exemption granted
NYC Web Site started
1998
Theme: "The Christian Walk: It's a Spirit Thing"
NYC Cookbook "Recipes from the Heart" – 1st edition printed
1st Annual Bike Trek across Nebraska
Beginners 2 session added
Intermediate 3 session added – Eight weeks of summer camp
New Entrance Sign Installed
4 more Storm Shelters installed
2 Picnic Shelters constructed
1999
Theme: "Jesus, The Solid Rock, in a Quicksand World"
Basketball Court Completed
2nd Annual Bike Trek
"Never Alone Retreat" added
2nd Staff Cabin constructed – cost: $22,000.00
Heart of a Servant Award: Jerry Munsell
2000
Theme: "Our God Reigns Always"
605 campers – 17 baptisms
Website moved to www.nebraskayouthcamp.com
Mess Hall reroofed
Heart of a Servant Award: Coleman Phelps
2001
Theme: Spirit Power "A Call to Believe"
Efforts made to purchase Camp Riverside at Milford
Blackfoot cabin restored after 10 years of non-use
Purchased Gateway modular home for caretaker house – $70,000.00
Caretakers: Eric & Jenny Tremaine
617 camper weeks – 433 individual campers – 17 baptisms
2002
Theme: "He Walked in My Shoes"
Caretaker's house paid off with Camp Riverside donations that weren't returned.
Caretakers: Doug & Cindy Houtz
Heart of a Servant Award: Opal Carmichael
2003
Theme: "Got GOD?"
First year for week-long "Project Camp"
Finished picnic shelters
Added 48 cubic yards of sand to beach
2 Family Camp sessions
2004
Theme: "Keeping In Step"
Carwash in Omaha raised almost $10,000.00
KGBI Radio scholarships
First year for Leadership Camp
Maintenance Building constructed
Heart of a Servant Award: Lisa Dollen
2005
Theme: "Jars of Clay"
Many improvements made to staff cabins, added sidewalk behind kitchen/chapel.
First year for Girls Camp
2006
Theme: "Then God Said…"
115 attend Dads n Lads camp
Building fund for Dining Hall surpasses $75,000.00
Heart of a Servant Award: Kelly Winkler & Bill Leinen
2007
Theme: "Access"
Gazebo constructed by Y.A.C.
Building fund for Dining Hall surpasses $228,000.00
Heart of a Servant Award: Mary Munsell
2008
Theme: "One Way"
309 Campers
Building fund for Dining Hall surpasses $350,000.00
130 at Dads n Lads
Caretaker: Jake Munsell
2009
Theme: "All You Need is Love"
Grass fire destroys Arapahoe and Bobolink cabins, amphitheater and thousands of trees- March 23rd
New Arapahoe and Bobolink built for $35,000.00 for both
New amphitheater built
399 Campers
Construction begins on new Dining Hall
Heart of a Servant Award: Jake Munsell & Cheri Clark
Caretakers: Jerry & Mary Munsell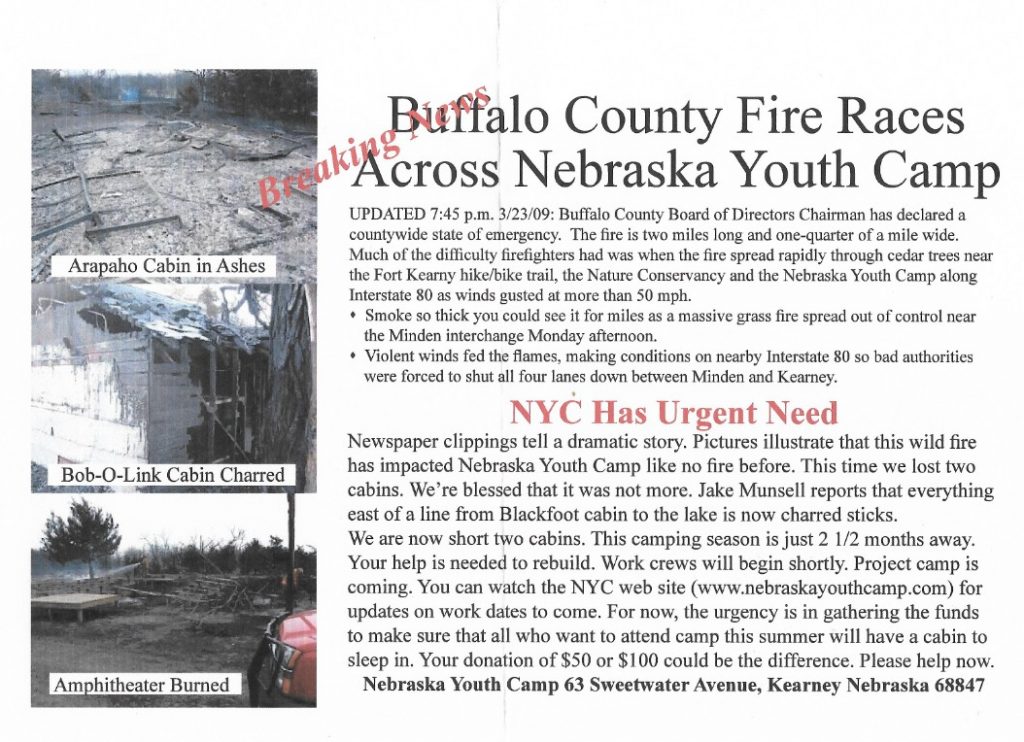 2010
Theme: "Occupied"
New Dining Hall completed – Cost: $500,000.00?
Annual Dinner at
Heart of a Servant Award: Ron Kahle (Electrician)
2011
Theme: "Awake"
Girls Pergola built by Y.A.C.
Added Dining Hall driveway, ramp and stairs
2012
Theme: "Good Soil"
New commons area next to Dining Hall created by Y.A.C.
Added covered porch to old Mess Hall
Added sand volleyball court and horse shoe pits behind Dining Hall
2013
Theme: "Gifted"
First annual 5K Mud Run
Incinerator demolished and hauled in for scrap
Built Boat House at the lake with memorials for Don Bailey (North Platte)
122 attended Midwest Youth Rally
Garage built for Caretaker's house
2014
Theme: "Least of These"
575′ underground electrical line installed to Boat House
2015
Theme: "
Heart of a Servant Award: Michele Tandy
Annual Dinner at Nebraska Youth Camp
2017
Theme: "
Construction of Boys Bathhouse for $292,000.00
Girls Bathhouse remodeling began
Annual Dinner at Nebraska Youth Camp
2018
Theme: "
Annual Dinner at Hastings Church of Christ